Discover SACE International | University pathways | Page Header
Discover SACE International | University pathways | Body
SACE graduates thrive in university and life.
They gain places at top universities around the world each year.
The program prepares students for academic study and gives them the skills to succeed at university.
Hear from SACE graduates on how the SACE prepared them for university.
Discover SACE International | University pathways | Body | Map
Australian curriculum that can take students anywhere
The SACE is a qualification that will take students to their dream university courses and careers. SACE graduates have enrolled at universities of their choice around the globe.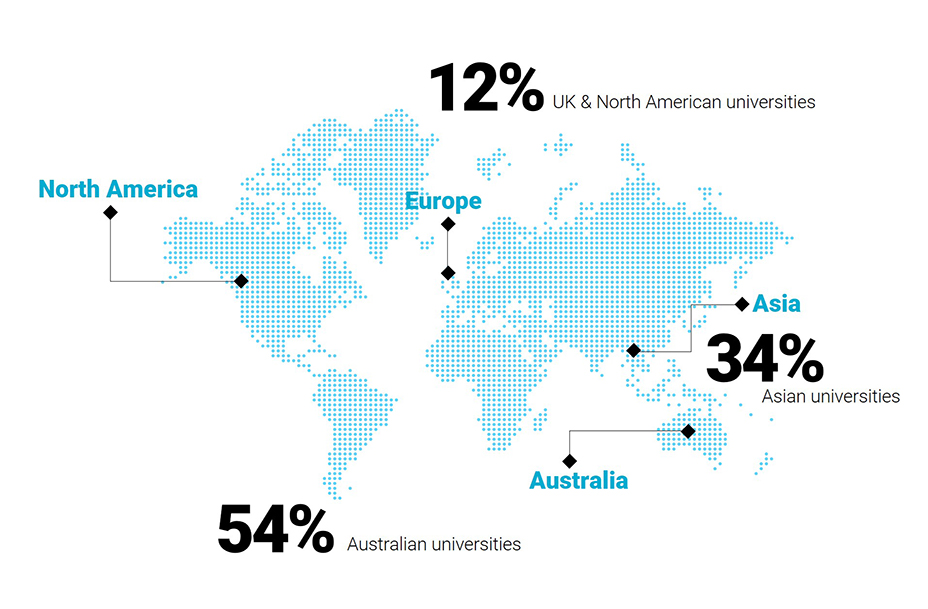 Discover SACE International | University pathways | University | Body
---
There are 43 universities in Australia and they all accept the SACE.
Australian universities are consistently ranked in the world's top 100 universities. They rank among the world's best in engineering and technology, medicine, environmental science, and accounting and finance.
International students choosing an Australian education have opportunities across all study disciplines.
Australian institutions offer a wide range of courses—from science to management and commerce, humanities to engineering, and law to health sciences.
---
Adelaide is a leading education city with established institutions across all areas of study, including universities that rank in the top 2% globally.
Adelaide's three public universities are Flinders University, The University of Adelaide and The University of South Australia.
For vocational pathways consider TAFE SA - A registered higher education provider and South Australia's largest vocational education and training provider.
TAFE SA has partnered with each South Australian public university to offer packaged offers in a variety of fields.
---
---
Guidance for university admission teams
Universities around the world recognise the SACE qualification and students use the SACE to gain places at leading universities worldwide.
The SACE Board has published guidance below about the qualification to help universities develop admissions policies for SACE students.
Please contact the SACEi team so that we can include your institution in our destination database. This database is an online directory of organisations around the world that have formally recognised the SACE.
---