Discover SACE International | An Australian curriculum | Page Header
Discover SACE International | An Australian Curriculum | Intro
SACE is the official Senior Secondary Certificate of Education of the government of South Australia.
In Australia, the Senior Secondary Certificate of Education (SSCE) is the graduation certificate awarded to students in Australian high schools, and is equivalent to the International Baccalaureate (IB), the Advance Placement in North America and the GCE A-Levels of the United Kingdom. Students completing the SSCE are usually aged 16 to 18 and study full-time for two years (years 11 and 12 of schooling).
The curriculum, assessment and name of the SSCE is different in each state and territory. The government of each determines these themselves, although the curriculum must address mutually agreed national competencies.
In addition to South Australia, the SACE is delivered in the Northern Territory, where it is called the Northern Territory Certificate of Education and Training (NTCET).
Discover SACE International | An Australian Curriculum | Body | Collapsible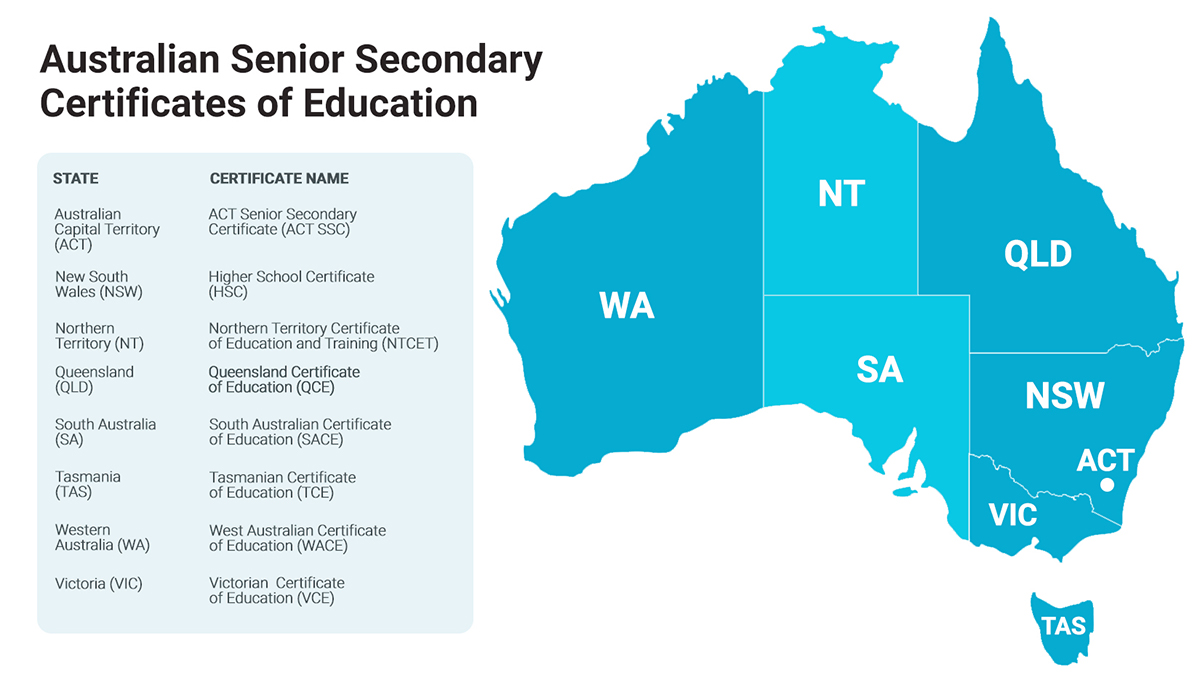 Australian education system
English is the official language of Australia and the main language of instruction in the education system.
An Australian education gives students a direct pathway to universities in Australia and top universities around the world.
---
The Australian curriculum is maintained by the Australian Curriculum, Assessment and Reporting Authority (ACARA). The curriculum is designed to develop successful learners, confident and creative individuals, and active and informed citizens.
Each Australian state and territory has its own curriculum, assessment and certification authority. These organisations are responsible for determining how the Australian curriculum content and achievement standards are included in their programs. The state and territory authorities also determine assessment and learning requirements.
---
Australian Qualifications Framework
The Australian education system is distinguished from many other countries by the Australian Qualifications Framework (AQF). The AQF was established in 1995 and is a national policy that covers all education and training qualifications, including SACE, a Senior Secondary Certificate of Education.
The Australian education system offers primary, secondary and tertiary education.
Australia's educational institutions are linked across the country and across the world.This makes it easy to move throughout the education system between courses or institutions. Formal agreement and recognition frameworks mean every step of the path will contribute to a student's future no matter what their study or career goals.
---
Australian school education
School education is similar across all of Australia with only minor variations between states and territories. Primary and secondary school education is compulsory between the ages of six and sixteen (Year 1 to Year 9 or 10).
School education runs for 13 years and is divided into:
primary school: Runs for seven or eight years, starting at Kindergarten/Preparatory through to Year 6 or 7
secondary school: Runs for three or four years, from Years 7 to 10, or Years 8 to 10
senior secondary school: Runs for two years, Years 11 and 12.
---
Tertiary education in Australia includes both higher education, including universities, and vocational education and training (VET). Australia has world-class higher education facilities and is home to 43 universities, with at least one university main campus based in each state or territory.
The Australian university system is directly tied to secondary school through a Year 12 completion certificate and an Australian Tertiary Admissions Rank (ATAR).
Unlike some countries, most Australian universities do not require students to sit an entrance exam. However, there may be exceptions for courses such as law or medicine.
Domestic Australian students and international senior secondary students receive an ATAR at the completion of Year 12. This means international students who choose to study an Australian Senior Secondary Certificate of Education are assessed for university entrance exactly the same as domestic students. The required ATAR for each university course varies and these can be found on individual university websites.
What is an ATAR?
The Australian Tertiary Admission Rank (ATAR) is a rank, not a mark. It compares overall performance across a student group, rather than individual performance in specific subjects.
The ATAR is a number between 0.00 and 99.95 that indicates a student's position relative to all the students in their age group. For example, all 16 to 20-year-olds in Australia. An ATAR of 80.00 means that a student is in the top 20 per cent of students in their age group.
Universities use the ATAR to help them select students for their courses. Admission to most tertiary courses is based on a student's selection rank, which is their ATAR. Most universities also use other criteria when selecting students. These could include a personal statement, a questionnaire, a portfolio of work, an audition, an interview or a test.
To meet the Australian Tertiary Admission Rank (ATAR) requirement for entrance into tertiary studies, students must successfully complete the SACE with a minimum of 90 credits from five subjects at Stage 2.
---
Resources | Glossary | Featured links
sacei | HR | Blue | Normal